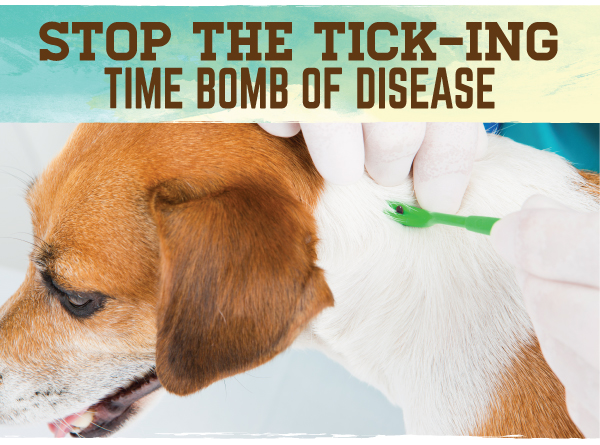 According to the Companion Animal Parasite Council, over 302, 987 dogs tested positive for Lyme disease in 2017. But this isn't just a canine problem: those infected ticks can make their way from your dog to your family, and the North Carolina Department of Health and Human Services reports that the disease is on the rise in our state.
As most people know, Lyme disease is spread by ticks—those tiny bloodsuckers that can also transmit several other diseases as well. When dogs develop this disease, the symptoms can be vague, but lameness and lethargy often result.
To protect your pet and your family, Southwoods Animal Hospital is recommending that your dogs be on a year-round flea and tick preventative. Relying on preventatives alone may not be enough, however: at Southwoods we also recommend that most dogs have the Lyme vaccine as well for the strongest protection possible. Should your pet miss a dose of tick preventative, he or she becomes susceptible to ticks and tick-borne disease.
Prevention is Better Than A Cure
While treatment for Lyme disease does exist, preventing the transmission of the disease to pets and people is always preferable. Simparica, made by Zoetis, is a great-tasting monthly chewable for dogs provides protection from fleas and ticks with no decrease in effectiveness. It also starts killing ticks right away to help reduce the risk of transmission of disease.
The same company that makes Simparica also makes a very effective heartworm preventive called Proheart 6. Heartworm is a serious and fatal condition spread by mosquitoes. Treatment is expensive and can be very hard on your pet—that's why at Southwoods, we also recommend year-round heartworm prevention for all dogs. With Proheart 6, one injection lasts for six months.
Flea + Tick + Heartworm Prevention = Savings!
Now that the weather is getting warmer, it's more important than ever for your dog to be protected against fleas, ticks, and mosquito-borne illness.
Zoetis also has a rewards program for pet owners who regularly use their products that will save you money on veterinary care! With each purchase of an eligible Zoetis product, you can earn points that are redeemed on a reloadable Zoetis Petcare Rewards Visa Card to pay for any product or service at our veterinary hospital. You can find out more and sign up for the Zoetis Rewards Program on their website.
For more information about parasite prevention, Lyme disease, or to have your pet vaccinated, make an appointment online or call us at 336-275-7266.