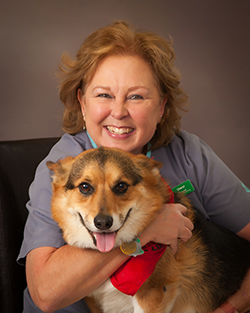 Cheryl
Registered Veterinary Technician
I was born in Nashville, TN, but my family relocated to Greensboro when I was in the 4th grade. I am a Registered Veterinary Technician graduating from Central Carolina Community College with an Associate Degree in Applied Science in 1976. At the time, CCCC was the only accredited program for veterinary technicians in the southeastern part of the United States but is now one of three in NC, so I feel very fortunate to have been a part of that history. When I first started at Southwoods Animal Hospital in 1997, I had been a stay-at-home mom for several years. It was scary getting back in the profession again as things had changed quite a bit. Dr. Joe evidently felt I was up to the challenge and I have been at Southwoods ever since! I have been married for over 30 years to the same great man, have two wonderful children and son-in-law, and am the proud "Nana" to two grandchildren who are the light of my life.
I knew at the age of 11 years old that I wanted to help animals. One of my friend's fathers found a beagle puppy in a lake where someone had tried to drown him because he was sick. I begged my parents to let me take him but unfortunately, he passed away from distemper virus soon after. It was at that moment that I made up my mind to pursue veterinary medicine and save as many animals as I could. I have definitely lived up to that promise! I presently have 10 dogs and 6 cats!
My grandchildren have top billing with my spare time, but I also enjoy taking canine acting classes with my corgi Franklin, taking my dogs to various parks for hikes and plan to do agility training with my border collie sometime in the near future.

Veterinary Assistant
I was born and raised in Charlotte, NC. I graduated from Appalachian State University in 2006. When I was growing up, my family always had pets. Being around animals just made me happy, and after doing an internship at a wildlife rehabilitation center when I was at school, I realized just how much I enjoyed helping them. I worked at a vet hospital in Charlotte for four years before moving to Greensboro. I currently have two cats and a beagle. I enjoy hiking, reading, and spending time with friends.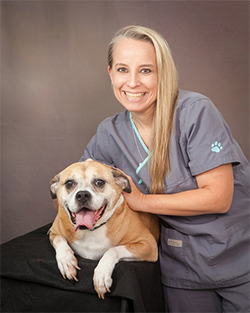 Christy
Veterinary Assistant / Client Service Representative
I started working at Southwoods Animal Hospital in May 2001 after graduating from UNCG with a degree in environmental biology and a minor in chemistry and geography. I have worked as a receptionist, technician, and surgical technician since beginning work at Southwoods Animal Hospital. I live with my husband, three sons (plus one due in March 2014), two dogs and one cat, Kayce.

Andrea Cashatt
Veterinary Assistant/Client Service Representative
Bio coming soon

Heather Clark
Animal Care Assistant
Bio coming soon

Lexi Hall
Veterinary Assistant
Bio coming soon

Megan "MJ" Jeffreys
Client Service Representative
Bio coming soon

Lexy S.
Animal Care Assistant
Bio coming soon

Ashley
Client Service Representative
Bio coming soon

Sarah
Veterinary assistant
Bio coming soon