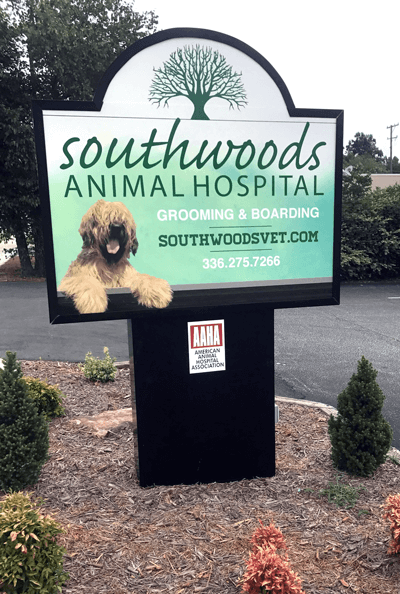 Brief History of Southwoods Animal Hospital
Southwoods was built in 1980 by Dr. Larry Thirloway. Dr. Thirloway had worked with IBM before attending veterinary school at Kansas State University and was ahead of the curve on the use of computers in practice. He published numerous articles in veterinary journals based on case histories and his experiences in veterinary medicine. After working at Battleground Veterinary Hospital with Dr. David Harling, Dr. Thirloway decided to open his own practice on Randleman Road.
The initial structure was 2,000 square feet with a large reception area, three exam rooms, a surgery room, pharmacy, a small large animal supply room, a kennel and a food storage area. Dr. Thirloway used the first exam room as his personal office. The backyard was unfenced, and there was a large grassy area to leash walk patients.
Dr. Thirloway developed renal carcinoma in 1993. He had a lot of loyal friends and clients that received periodic Possum Pal newsletters regarding the care he received for his cancer. It was a truly sad day when he succumbed to the disease.
Dr. Joe Packheiser owned Spring Valley Animal Hospital just a few miles up the road and was a personal friend of Dr. Thirloway. He took over the practice in 1994 after merging the two practices at that time. Business was very busy and Southwoods went from two doctors to three within two years. In 2000, a 1,000 square foot expansion was added to allow for additional boarding, grooming, and separate cat ward and isolation wards in the back of the building. A large fenced in pet exercise area was added behind the kennel. The reception area was remodeled and the former kennel became office space, an enlarged surgical suite, and treatment room.
The practice has continued to grow over time, added digital radiology and ultrasonography in 2007. There are currently three full-time doctors and a support staff of 18 people including administrative personnel, receptionists, technicians, and support staff in the kennel. In 2013, Dr. Corinne McGregor partnered with Dr. Packheiser until his retirement. In 2019, Dr. McGregor assumed sole ownership of the practice.