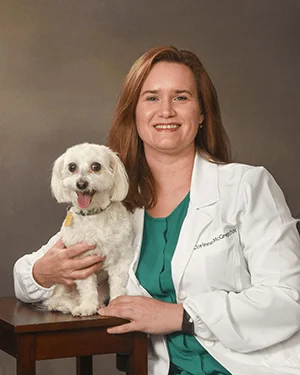 When I was six years old my parents allowed me to get my "very own" kitten. Penny was a sweet, beautiful little calico from a neighbor's cat. But I only had her for a few months when she started to get sick. She was weak and wouldn't eat, and then she couldn't even walk and had to be put down. I found out years later that the vet thought she may have contracted Rabies. Fortunately the test was negative but we never knew what made her so sick. I knew even back then that I wanted to take care of animals.
I grew up in the Midwest, mostly in northeastern Indiana. We had a small horse farm and I showed in both 4-H and the local Hunter Jumper circuit. Many of my friends also had horses and other livestock so I spent a lot of time out in the barn. I started my first veterinary job when I was 16, cleaning kennels and assisting with our family vet, Dr. Poppy. He was compassionate and creative, a leader and a jokester, and I thought he could fix anything. I knew I wanted to do what he did.
I went to the University of Findlay for Pre-Veterinary Medicine, and received my DVM from The Ohio State University in 2004. I have worked at Southwoods Animal Hospital since the beginning of my career. I have two daughters who keep me very busy, but in my free time I enjoy reading, cooking, and spending time with my family. Our four-legged family members include two beagles, Lucy and Charlie, and one rotten cat named Mia.