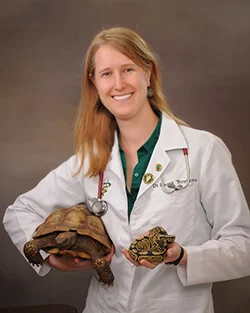 I actually did not have many pets growing up but was always envious of all of my friends that did! I figured that by becoming a Veterinarian I would be able to spend all day, every day with animals since I was not allowed to have any at home. Now I have two dogs, a tortoise, a parrot, a beta fish, and two geckos and I get to be a Veterinarian!
I grew up in Colorado and got my undergraduate degree in Microbiology and my Veterinary degree both from Colorado State University in Fort Collins. Having never lived outside of Colorado, I was ready to try a new state and randomly chose Greensboro so that I could be between the mountains and the beach!
I enjoy all aspects of veterinary medicine but have a passion for surgery, exotic pets, hospice care and client education.
In my free time I play guitar, banjo, write books, take care of my "zoo" at home and spend time with my friends and family. I love to learn new things and pick up random hobbies!